Equipment hire
The prices shown below do not include equipment hire. We have some equipment we can hire directly (see here for prices) and we work with local hire companies where appropriate to make sure you have everything you need.
Please note that buoyancy aids are mandatory for all kayakers and canoeists, and advisory for paddleboarders.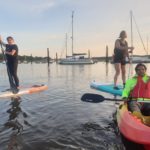 PaddleSafe
This half day course will give you the need-to-knowledge and insight to paddle safely on the Hamble and similar waterways.
Andark Lake | 3 hours | £30 | Please
Login
or
Register
to book |
More info & dates
---